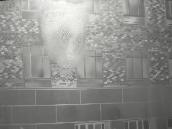 1952
"J. Edgar Hoover"
FBI Employees
Portrait of J. Edgar Hoover and Identification Bureau
with fingerprints
Brushed aluminum

Unknown
FBI, Washington, DC
FBI, Clarksburg, WV
Slide box 26
By 1952 the McCarthy hearings were well underway.
Bel-Jon had his citizenship, but was nervous to hear from
his wife that the FBI wanted to talk to him. He was quite
relieved to learn that the men who were looking for him
were representatives of the employees of the Fingerprint
Division there to commission him to create a mural to
commemorate Hoover's thirty-fifth anniversary with the
FBI . The mural was displayed for many years in D.C. and
was moved when the FBI relocated the Fingerprint
Division to Clarksburg, WV. The mural is still displayed
in Clarksburg.

Date
Title
Client
Description

Medium
Dimensions
Price
Original Location
Current Location
Documentation
Notes